Investors Club to Skill you with a Structured Strategy,
Plan and Support to Beat the Investing Pro's
Join the Investors Club * Gain Knowledge & Skills * Become Composed & Compentent *
* Achieve Excellent Long-Term Returns * Grow Your Wealth *
Do you know YOU can grow your Nest Egg far better by using a certain 'Wait & Win' strategy? Do you want a strategy that demonstrates long-term growth superior to nearly all other long-term investing avenues?
You see, most people are sleepwalking their way to a long, painful retirement. Do you want to avoid:
Filling your retirement days toiling away part-time or picking up odd jobs so you can pay the electricity bill.
Relying on an ever-shrinking pension to scrape together enough to get the weekly groceries.
Having to slash your living expenses to the bone.
The sad thing is that this penny-pinching, "we can't afford it" lifestyle is often the average retirement scenario, simply because so many Americans have horribly under-funded their savings.
Here's part of the hidden reason why.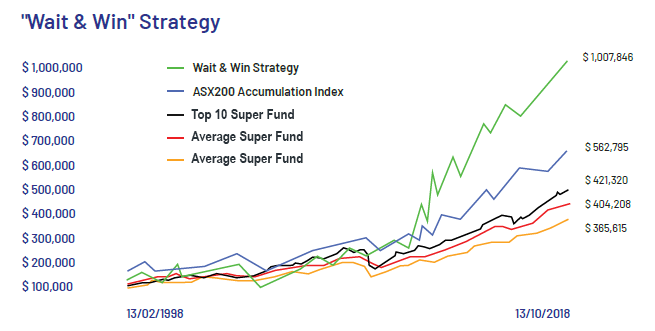 Even the best long-term returns from 401(k)s, balanced funds and diversified funds are too low. They do not meet the need to fund a "we can afford it" retirement lifestyle, one at your accustomed level of comfort.
Long-term research clearly demonstrates that on average the annual status quo returns are three quarters, or less, of what they need to be to fund a comfortable retirement.
That might be hard to believe, as you might think your nest egg looks healthy right now. But it's impossible to predict…
How long you or your partner will live after you've retired.
How your health will hold up, especially in later years.
How much financial help your children or grandchildren might need from you.
How much inflation chips away at your savings each year.
How much you might spend, over and above how much you should.
How much investment growth you might need during retirement.
How much nest egg you actually need to cover all the risks.
How much a market crash can rip from your nest egg.
And these are just the practical factors…
The two real questions everyone asks as they edge toward retiring are:
Question #1
How do I WANT to live out my golden years?
Perhaps you're planning to travel to places you've been dreaming of for decades.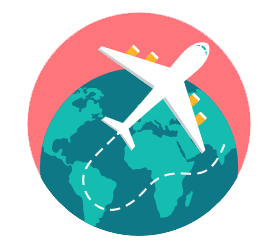 Or you plan on enjoying a lifestyle packed with "little luxuries", like eating out or week-end getaways.
Maybe you can't wait to get on the golf course, hit the gym, develop a "green thumb" or start the new hobby you never had time for until now.
But these need enough money, which leads to the other big question…
Question #2
How do I AFFORD to live out my golden years the way I want?
In other words, how do you fund a retirement that gives you complete financial freedom and sidestep a "life after work" that's no life at all, with you helplessly dependent on more work, family or possibly the government?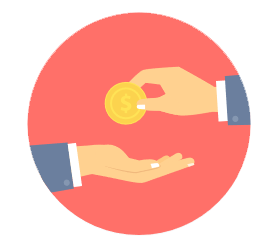 Your typical big brand mutual fund or 401(k) only achieves sluggish returns over the long-term that slowly drain the life and color out of your future years. Plus, that paltry growth leaves your nest egg one market crash from financial oblivion, perhaps even snatching retirement away from you altogether.
Yet few of us think about taking back our future from under-performing funds. Fewer still ever dare to act on it. You may not want to take the chance in case you could make a painful, costly mistake.
Or we're naively too focused on the here-and-now to worry much about the years ahead.
The Game-Changing Chart That Reveals How
Retirement Can Turn Out For You
When you do gaze down the road that's your life to come, there's only one figure that ultimately shapes your retirement as a golden age or bronze era: the size of your nest egg when you hang up the work boots.
And research shows that the eventual size of your nest egg relies a lot more on one of the four variables: the rate of growth of your investing returns. (See short video for the 4 variables.)
Naturally, you want to know how things are tracking long before those days (even if you are rooted in the present).
The good news is, you can. In fact, it takes just one chart to anticipate whether you'll be enjoying fine dining, haunting the local Chinese takeaway or sitting in the living room with frozen dinners in your later years…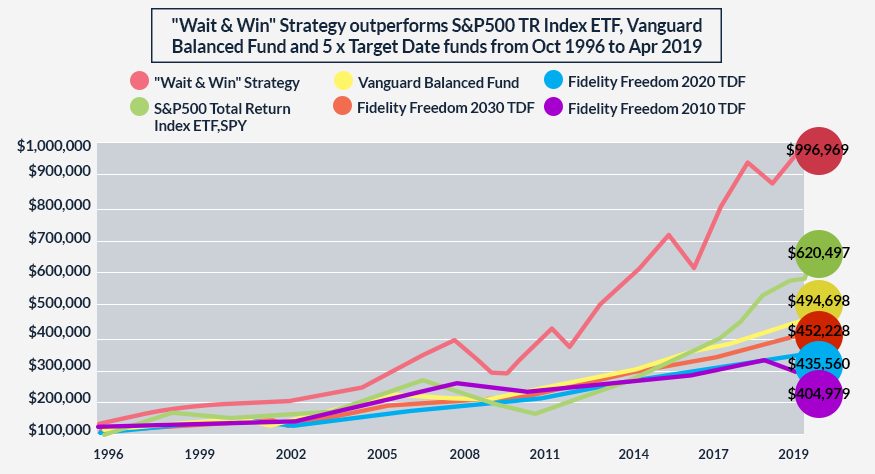 Even a casual glance at this chart exposes two eye-opening truths…
You could build a healthier nest egg by just dumping your money into a simple S&P500 index fund (the green line), as well as saving thousands in fees you pay to whichever fund controls your money.
There's something that streaks ahead of both the conventional funds AND the index when it comes to the best home for your savings.
You see, that red line shooting to the top of the chart is the difference between the "second life" you've been impatient for… or the one you've been trying not to think about.
So, what is the 'Wait & Win' Strategy?
This investing game-changer emerged in the USA in the mid-90s, and then, more than a decade in the making, arrived in Australia in 2007.
It's helped everyday Americans become successful self-directed investors and get bigger returns from their savings without years of study or the risk that comes from high-return investments.
Today, 'Wait & Win' is a master strategy that invests with a company which manages over US$6 Trillion, with annual fees 12 to 20x LOWER than employer-sponsored funds, and with returns of around 4% to 4.5% annualized HIGHER over the long-term.
But the best part?
If you follow the strategy, you actually can't make a mistake that leaves you red-faced or feeling stupid. 'Wait & Win' is designed so anyone can pick it up within a couple of weeks and get a better return than the pros do over the long term.
In fact, the only mistake you can make with 'Wait & Win' is to NOT invest some of your retirement or other savings with it.
The Buffett-Beating Strategy That Funds
Retirements Fit For A King
Experienced investors might know a dozen ways to beat the plodding mainstream funds. But there's one fact about 'Wait & Win' even they struggle to accept: that this strategy grows nest eggs so abundantly, it edges out the legendary Warren Buffett's Berkshire Hathaway…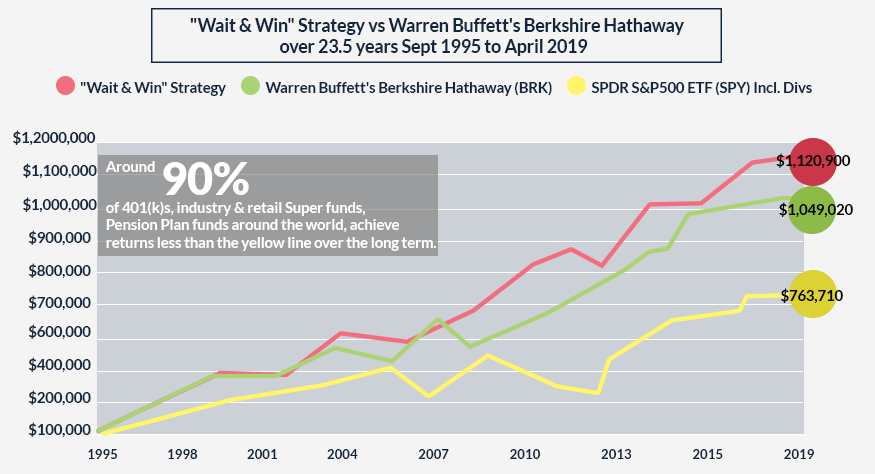 Admittedly, the difference between Buffett – who's legendary status comes from over five decades of consistently incredible returns year after year – and 'Wait & Win' is narrow.
But if you had instead invested $100,000 in the S&P500 index 23.5 years ago, you would have lost out on the extra $357,190 earned with 'Wait & Win'. That's 3.5 times more than the starting $100,000!
But here's the 93-year undeniable proof that shows the 'Wait & Win' Strategy out-performs balanced and diversified funds over and over again…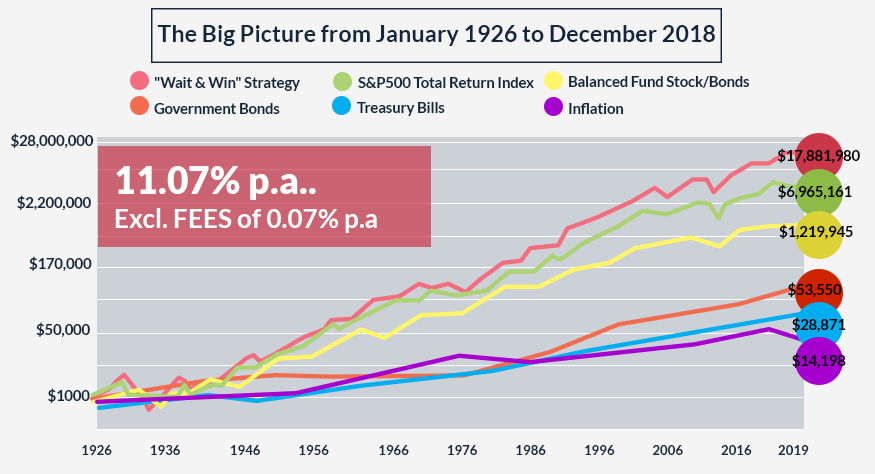 That's over 4% better annualized growth – the main ingredient of the four variables to reach a far larger nest egg (see short video for the 4 variables) – than the yellow line Balanced Fund returns.
The simple truth is that fattening your nest egg to make a more than comfortable (and early) retirement at minimal risk is entirely possible for you, if you're willing to take action.
Investors of all kinds, some experienced veterans who've finally found a strategy that delivers, others new to investing but eager to make their later 'second life' years their best, are already on their way to retirement riches with the 'Wait & Win' Strategy.
Are you ready to take control over your retirement?
Introducing the Blueprint to Wealth Investors Club: the systematic, simple way to reclaim your retirement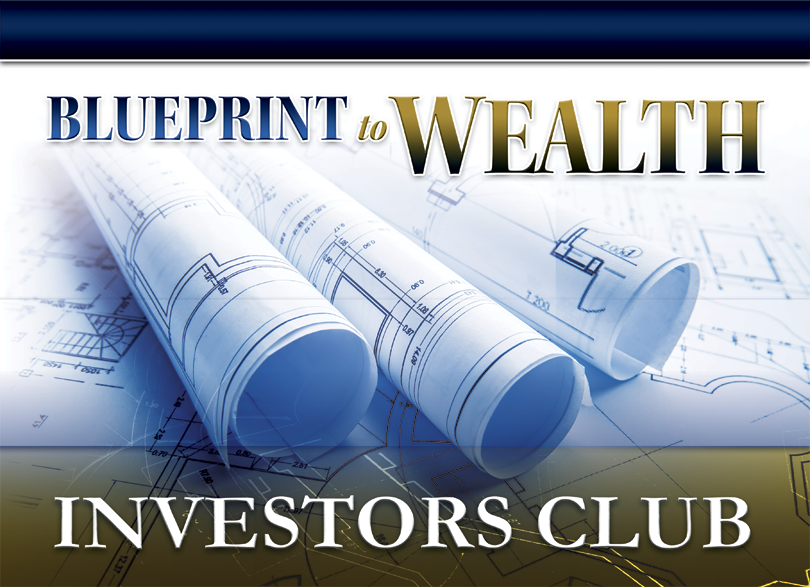 We created the Blueprint to Wealth Investors Club to help people, regardless of their investing skills or knowledge, take back their retirement from big funds and plodding returns.
With the 'Wait & Win' strategy as the centrepiece of the Club, our members use it to swell their nest egg to the point they can…
Spend retirement how they like without having to watch the bank balance dwindle away
Handle unexpected medical or family emergencies without worrying what they'll have to cut back on for the next year
Forget about the idea of making a mistake or looking silly – you basically can't "screw up" once the strategy is in place (and we show you how to implement it)
Compared to most investment strategies, 'Wait & Win' is so easy to execute. There's no heavy technical analysis or losing a weekend to wade through a company's financials.
However, to get the most from the 'Wait & Win' Strategy, you need three fundamental things from the Blueprint to Wealth Investors Club before you begin the process…
Confidence: which comes from seeing more evidence of why and how – oodles more than you've seen so far on this page.
Essential investing concepts and logistics: like how to evaluate the right investment vehicle, or entity, to map out the right plans for your financial future. You'll learn those in the online course that's part of the Club, so you can create your own Investment Plan that charts your path to retirement, or during retirement.
Motivation: if you're willing to learn the simple concepts you need, you'll be ready to use 'Wait & Win' to hit the accelerator pedal on your wealth in short order.
"Ignore the 'expert' commentary"
"After three long years, I have finally succumbed to the basic principles taught by Gary. Develop an investment plan based on a mechanical system, define rules and stick with them regardless of what the market is doing and ignore the 'expert' commentary. My superfund has a much healthier balance these days and the volatility in the market causes me no concern whatsoever.
All I need to do is follow app alerts and use the guidelines and principles defined in my investment plan. I'd like to pass on a big thank you to Gary and the team for providing the tools that have helped me develop the skills and system I now have."
Michelle Goldsbrough, member since 2015
The Hard Numbers: How 'Wait & Win'
Stacks Up Against Competition
One of the biggest questions we get about the 'Wait & Win' strategy is how it stacks up against major funds. So, rather than talk endlessly about what it can do for you, we thought it'd be easier to show you the raw numbers, so you can see the difference for yourself.

Now consider this decision…
Option 1:
You make a small RISK-FREE outlay to join the Blueprint to Wealth Investors Club and learn the 'Wait & Win' strategy, and lots more, that can make tens of thousands more for your nest egg or other investments over the long term.
The ongoing fees of 0.07% per year that are paid to a $6 trillion fund manager to execute the 'Wait & Win' strategy are less than $2000 in total over 9 years on a $100,000 initial investment.
Option 2:
Or continue with a diversified or balanced active fund or financial planner that you are already paying between 0.18% to 0.69% per year – which is between $3,537 and $14,166 in total over 9 years on a $100,000 initial investment.
Continuing with the second option you PAY $1,000s MORE in fees, LEARN nothing and EARN tens of thousands LESS.
And what's more, once established, you can't make a mistake with the 'Wait & Win' strategy that you might feel embarrassed by, if you take the same long-term view that you currently have with where your money is currently invested.
With the Blueprint to Wealth Investors Club, You Become An Investor Who...
No longer follows the investing herd
You'll know exactly WHY you are following this strategy – successful people do what unsuccessful people are not willing to do
Your plans, nest egg and future are no longer dictated by fee-hungry funds
Friends, family and colleagues are impressed by your knowledge on the markets
Have the results to call yourself a self-directed, successful investor
Has complete confidence in your strategy
You won't worry about making a big mistake because you'll understand the long-term research that backs this strategy
You'll no longer second-guess, hesitate or over-think every investing move you make
You won't waste hour after hour going down research "rabbit holes", but spend less than an hour each quarter to keep things on track
Every time you check the figures on your nest egg, you'll be unafraid, knowing they'll always be in your favour over the long term
Ignores "tips of the week" or "trends of the month"
Every new craze won't have you throwing good money at it, desperately hoping to hit the bullseye
You'll see ads and promotions for financial planners, investment advisers, Forex, options, stocks, managed funds or 'active' ETFs but not be fooled, knowing your strategy already delivers better real returns for you
Your plans keep ticking along to meet your objectives, rather than fulfilling the agendas of others
Weathers storms & shocks in the market without panic
While everyone else loses their heads, you'll keep yours and just follow the same steady, pre-defined process with little fuss or worry
Your nest egg is primed to ride out trouble spots and position you to take full advantage of the next up-swing
Continually and consistently grows your wealth
You know that "overnight success" and "get rich quick" is the realm of fantasy
Able to view retirement (or early retirement) with a sense of anticipation, rather than nervous uncertainty or fear
With your simple strategy and structured process in place, your nest egg consistently performs well above industry averages while you live life, knowing your financial future is in the best hands it could possibly be: yours
Crafting A Near Unbeatable Investing System
How Gary painstakingly built his system from nothing more than a hunch…
Have you ever been possessed with such enthusiasm for something that you went "all in" to chase it?
Whatever it cost, you were prepared to pay the price.
My "something" was mastering the stock market. And in building, then perfecting my mechanical investing methodology over 20 years ago, I…
Bought book after book on investing, poring through each one forensically for the clue that would unlock the key to consistent returns
Blew thousands of dollars testing theories in the one place that mattered: the stock market
Spent 8 years building, testing and refining a fully-fledged investing process that in 1998 started giving my clients the results they were looking for
If you were to count the Computer Science and Mathematics degrees, my total investment into this methodology was well over a decade.
And after painful setbacks and endless, hair-tearing frustration, I finally cracked the code to discover a mechanical system that could out-perform almost any other.
This system beat all comers in three out of four year-long investing contests held by Personal Investor magazine between 1997 and 2002.
As news of the methodology grew, I became a "go to" commentator on the markets and investing. I've appeared on over 120 investment TV shows, have penned countless magazine columns for financial publications and have even written a book spelling out my philosophy on investing (you get a digital copy as part of your membership).
20 years after its birth, this rules-based, mechanical active investing process is still used successfully by thousands of self-directed investors around Australia and the world to bolster their nest egg and gain financial independence.
And then, with this intense research and stock-market execution experience, I turned my attention to discover the best risk-to-reward passive investing process on the planet.
The 'Wait & Win' Strategy was born and is now available in the Blueprint to Wealth Investors Club…
Are you ready to become one of those successful investors who can do hundreds of thousands of dollars better than the investing herd over the long term?
"Your course should be a High School subject"
"My objective now is to get my two 30-something children to 'move their legs' in the same direction before it's too late.
Your course should be a High School, University or College core/compulsory subject. It's what's needed by the "ordinary Joe" to get themselves on the right track to achieve a comfortable retirement and obviously, the sooner they start then the easier it'll be."
Trevor Lock
Your Journey To Successful Self-Directed Investor Begins Here
Module 1: How To Avoid A Mid-Retirement Crisis
Nest Egg Alert: work out how big your nest egg should be when you call time on the 9-to-5 (it's staggering how few people do this calculation)
Follow Iain, our "composite customer", to see how most view their retirement… and what most completely miss
Why alternatives like social security, the pension or building a business you hope to sell will probably leave you "scrooging" your retirement
Module 2: Lock In Your Mindset
Decipher the confusing investing scene so you fully understand your options
The traits anyone can get to become a successful self-directed investor
The emotional pitfalls all investors face, and how to handle them without affecting your performance (or hurting your balance)
Module 3: Pick Your Investment Vehicle
Why choosing the right investment vehicle before you do anything else is critical
What really matters: cutting down each vehicle to get the details you need to know
Why diversification — mainstream advice — is the wrong way to get the returns you need, along with other myths you should ignore
Module 4: Pick Your Strategy
How to determine the right strategy for your circumstances
The two stupidly simple "big ideas" most people have no idea about, either leaving hundreds of thousands on the table… or losing most of their nest egg as a result
The four questions you should ask about any strategy you're looking to grow your wealth with (Question 1: what to buy?)
Module 5: Pick The Right Investment System
How to "McDonaldise" your investing process for rock-solid stability and better returns
How to use the 'Wait & Win' strategy to reap big rewards over the long-term
Using the "15 Minutes A Week" strategy to maximise returns in the shorter term while protecting your nest egg from market shocks
Module 6: Create Your Investment Plan
Your 'Wait & Win' Investment Plan: chart your path to financial freedom
Create a "15 Minutes A Week" Investment Plan: when you don't have long to retirement but need to boost your nest egg, this shows you how
A detailed, pre-planned Investment Plan with the heavy lifting done for you: simply download, follow the videos and tweak to your personal situation
BONUS: Extra Membership Benefits Only Club Members Get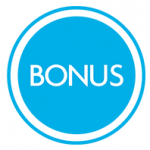 Bonus 1: Unlimited Email Access (Worth $997)
The secret of many successful self-directed investors is simple: a mentor. Someone who's seen it all and is willing to guide others less experienced. When you join the Club, you'll get your own "mentorship" with unlimited email access to Gary and his team of analysts. Ask him anything about the course, the strategies, the systems, and even the stock market. Decades of investing research and experience are here to shortcut your growth.
---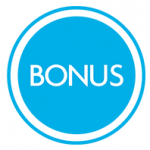 Bonus 2: Fortnightly Webinars (Worth $997)
Investors who stay at the top of their game know education doesn't end with a single course or a few books. That's why we hold fortnightly webinars to give you extra coaching in the context of the markets. You reinforce your new skills and develop the ability to exploit unfolding trends and patterns long before the mainstream wakes up to them.
---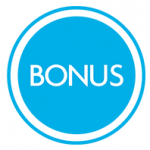 Bonus 3: 2nd Investment Plan (Worth $2,497)
Investment Plans aren't a "one size fits all" proposition. That's why we've spent dozens of hours to create a second Investment Plan for you. This plan is designed to fortify your nest egg from market shocks or crashes while still growing your wealth. Like the first Plan in your membership, you can use this as a template to shoot towards your ambitious financial goals and protect you against Sequence of Returns Risk, whether you are in retirement or still building your nest egg.
---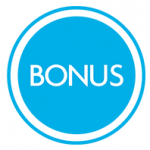 Bonus 4: Beyond Charts Trial (Worth $18)
Software isn't something new investors should focus on when starting out, but once you have a system in place, it's a powerful tool. When you join the Club, you get a 21-day trial to Beyond Charts: a fully-functional technical analysis package that includes end-of-day market data. You'll be able to give Beyond Charts a thorough workout for 3 weeks to see how it makes investing even easier.
---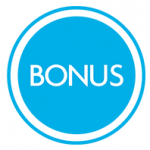 Bonus 5: Gary's Blueprint to Wealth Book (Worth $12)
As a personal way of saying thank you, you also get a digital copy of Gary's book Blueprint to Wealth: Financial Freedom in 15 Minutes a Week. The book covers a lot of the principles in the course, along with new ideas that round out your learning.
Give yourself 90 days to discover how the Club can transform your skills, your finances and your future
Our members never set out to make a million dollars in 90 days or become the next George Soros.
They want to unlock better returns for their nest egg, escape the under-achieving funds most people suffer with, and ultimately find the freedom to do what they want, either in retirement or well before.
That's what the Blueprint to Wealth Investors Club is all about, and the feedback we get every month suggests we're more than delivering.
We're so confident you'll find what you're looking for in the Club that we happily offer two guarantees to make your membership 100% risk-free.
The "ROI Guaranteed Return"
Not everything can be measured by a direct dollar ROI, but we've seen firsthand the boosts that members get to their nest egg.
If, after 90 days, you're not completely satisfied the Club is helping you do more for your savings and investments, you'll get every dollar of your money back.
The "5-Star Service Guarantee"
As a Club member, you're entitled to the same first-class support and service that have helped our members become successful investors since 1995. Should you feel you're not getting that, let us know within 90 days and you'll get 100% of your money back.
What Other Self-Directed Investors Are Saying…
"Every aspect of investing has been covered in an easy to understand process within SWS. It has helped me immensely and I wouldn't hesitate to recommend it to anyone who is wanting to learn how to invest. Even my own kids. Many thanks to you all in putting this system together."
Jeffrey Schloss, member since June 2014
Informative comprehensive results-based processes and procedures that are easily demonstrated. The course has very good content that details the theory of the system very well. Overall it is an excellent training.
Greg Brierley, member since November 2014
I like the attitude that Share Wealth uses: the thinking!
Gregory Vacirca, member since December 2016
Love the rigour and logic of the systems involved.
Michael Spratt, member since Feb 2002
Gary's second client many years ago and have continued to follow his wisdom.
Michael Timothee, member since July 1995
Gary and the team at Share Wealth Systems run very well researched, reliable, disciplined, profitable investing/trading systems.
Colin Butler, member since September 2005
I believe in your research and philosophy. You and your team are accessible to all of us. You and your team are always striving to improve your system. I know that if I wanted to communicate with you personally that all I have to do is contact you.
Boyd Parry, member since April 1999
It is a mechanical non-discretionary system which is proven to have an edge and is continually being improved with tested research. Also a high level of education on how to use the systems for maximum success.
Peter Jumikis, member since Feb 2012
If you want to regain control of your financial future, the

$9,735

in value that comes with the Blueprint to Wealth Investors Club helps you do just that.
$1,250 value ~ Instant access to the complete Blueprint to Wealth Investors Club online course.
$1,997 value ~ Nest Egg Alert calculations to show where your retirement's headed.
$1,997 value ~ A fully-documented "Wait & Win" investment plan.
$997 value ~ 6 months of unlimited email access to Gary and his team.
$997 value ~ 6 months of fortnightly live webinars keeping you up-to-date with the markets.
$2,497 value ~ A second comprehensive, active investment plan with researched returns of 13% – 20% p.a.
Join over 3,000 successful self-directed investors following the true path to the financial security, independence and retirement you deserve
$997

/

$297

/ $97 USD
Until June 30th 2019
Yes, I Want To Join the
Blueprint to Wealth Investors Club

Questions That Other Investors Are Asking
How long will it take to complete the online course?
The 15 short learning-loaded lessons about investing, packaged into 6 modules, should take you no longer than 5 hours to complete.
How long can I have access to the Blueprint to Wealth Investors Club for?
The course material and the bonuses of the coaching webinar attendance and VIP Email support are available for 6 months from date of enrolment.
There is just under 5 hours of online course training and between 10 & 12 hours of live webinar coaching available during the 6 months.
Can I extend my enrolment beyond 6 months?
Yes, you can. There is an additional cost of $197 for an additional 6 months. This will continue your access to the fortnightly coaching and Market Status Update webinars.
How do I know that the suggested investing paths will work better than the path I'm on?
Basically, from 28 years of research and experience.
What I have found is that the first of the two investment paths covered in the online course, the "Wait & Win" path…
…has performed better than Warren Buffett's listed investment company Berkshire Hathaway (BRK.A) since this particular investment vehicle became available to everyday investors in May 1995.
And Warren Buffett's Berkshire Hathaway has outperformed just about every 401(k), active diversified & balanced mutual fund, Pension Plan, Industry or Retail Super fund over this same period.
It has also way outperformed all major stock market indices, including the S&P500 Total Return and the ASX200 Accumulation indices over this period.
That's nearly a quarter of a century of demonstrated outperformance.
And digging deeper I have found that the particular investing vehicle used by the "Wait & Win" strategy has been outperforming the major stock market benchmarks going back to 1926!
BTW, I only discovered this after 2013 when I started work on my book, Blueprint to Wealth…
…and have been gobsmacked that NO investment advisers, financial planners or industry experts that I have raised this with even know about the massive outperformance achieved by this "Wait & Win" process…
… nor the ease with which EVERYBODY can invest in this investment vehicle.
How did you discover this investment path when it is so little known. And why is it so little known?
It is so little-known because:
There is nothing in it, in the way of fees, for investment advisers, financial planners, 401(k) plan providers, Super funds and pension plans around the world.
The financial fraternity's solution focus is on how to manage multiple billions of dollars, not on an individual's requirements of a few 10s or 100s or 1000s of dollars.
I discovered it via research for my book, Blueprint to Wealth, conducted through the dual prism of seeking and formulating a solution for my customers, who are individuals not large funds; and for myself.
The drive came from the creative process of writing a book, which was prefaced by listening to my customers' requirements, many of whom have been using our investing solutions for many years, some over 20 years.
And, because this is what I do, I have the luxury of extreme focus, time, knowledge and experience to keep seeking, researching, qualifying until the Ah-ha discovery was made.
Is there a money-back guarantee and how do I claim it?
Yes, there is a 100% money back guarantee. We ask that you let us know within 90 days of enrolment that you would like to enact this guarantee and we'll gladly give you your money back. Simply email the Support email address that you will be provided with after enrolling.
How do I ask questions and how quickly will I get a response?
You can either ask a question within each Module on the platform for all current and future attendees to see. Or you can email our team with the dedicated support email address that you are provided with after you enrol. You will typically get a response on the same day and seldom beyond 24 hours.
It sounds complicated! Is it?
It's definitely not complicated. In fact, anyone can implement the Wait and Win Strategy, even if you have no prior stock market knowledge. We teach you exactly what you need to do and have a team on hand to assist with any questions you might have along the way. Being part of the Club means having the people around you to support you, rather than having to go it alone.
I'm an investor not a trader. Is this Club still relevant for me?
The Club is very relevant to you as an investor. The Wait and Win Strategy is designed specifically for those looking to invest. However, the lessons learned are important for both investors and traders alike to understand and master.
What will shock me in the online course if I sign up?
You'll be shocked that this information has been held back by the financial fraternity for years and how easily it can benefit anyone that knows it. And the great thing is that it's information that you can pass onto your children to also benefit financially throughout their lives. You may also be shocked at just how simple it is to implement the strategy and how little time you actually need to devote to it once up and running. It really does only need about 1 hour per year.
You may also be shocked at how easy it is to at least match, let alone beat, the investing performance of the world's greatest investor, Warren Buffett.
Lastly, you may be shocked at how much you need to enjoy a comfortable and independent retirement, and have a contingency for living longer in retirement, ill-health or leaving a legacy…
Will I have enough of a nest-egg when I retire?
A current 25 year old needs to earn 9.5% p.a. (10.25% in Australia due to contributions tax) whilst saving 9.5% of their wage for 40 years.
Earning the Industry average of 7.5% p.a. will leave them over $1 Million short for a comfortable and independant retirement.
How does your nest egg stack up?
1. Enter the current balance of your retirement nest-egg
2. Enter in your current annual contributions (eg. 9.5% of your annual wage)
3. Enter in your expected annual salary increase
4. Enter in your expected annual investment return
5. Enter in how many years until you want to retire