One of the major issues facing traders and investors in the current market climate is the extreme levels of volatility being experienced by all the world's share market indexes. These extreme levels of volatility are also being experienced in almost all the world futures, currency and commodity markets as traders and investors of all shapes and sizes struggle to come to grips with what is being termed the global financial crisis. This has resulted in huge intraday price swings across all markets as fear and panic grip market participants. Normally level headed and balanced traders are even prone to irrational behaviour under these conditions as they enter and exit trades on a whim or in reaction to news stories and other reports in the press. The day traders and short term swing traders are both benefiting from and contributing to the volatility as they trade in and out of short term moves and patterns.
The chart below provides a clear picture of what is happening in the Australian equity markets. Volatility as measured in percentage terms is approaching levels not seen since the 1987 crash. In 1987 volatility reached just over 12%, today it is around the 10% level. By comparison, during the 1997 correction, volatility was approximately 5.5%, and even the massive sell off following the events of September 11, 2001 saw volatility levels of just over 4%.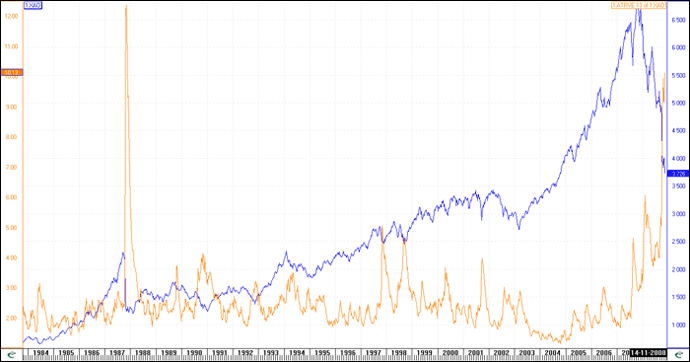 A large number of traders are experiencing unprecedented levels of volatility, and really struggling to come to terms with what it all means for both their trading and investing activities. Many have only been involved in the markets through the relatively stable and low volatility period experienced during the bull market that began in 2003 and lasted until late 2007, and as a result, are confused and dazed by the current market volatility. Like a 'deer in the headlights' they are stunned by this sudden intrusion, and totally bamboozled as to what to do next.
The good news is that the volatility will eventually 'wash out' and return to normal levels at some stage. The unknown of course, is when? Following the 1987 crash, volatility took around 8 months to return to pre-crash levels. The fall in share prices then was however much sharper than the current crash. That crash happened over 2 days; this crash has so far taken several months to unfold.
The most important thing to do when trading during volatile times is to not only stick 100% to your trading rules, but to also ensure that your trading plan has a method of reducing your exposure to the market. It's this lightened exposure that will reduce drawdown in a portfolio and keep the investor ahead of the bench mark.
Mechanical investors have detailed trading plans that consist of market risk evaluation -either LOW or HIGH, money and risk management rules, and strict entry and exit signals for individual trades. It's the rigor and rules that mechanical investors build out of the market that enable them to execute the plan IN the market.
It is also vitally important to know well before hand what you will do when the volatility does return to normal, lower levels, which it will do. The prepared traders with a trading plan will know well in advance how and when they will re-engage the market and will act with certainty and confidence when the time comes. The unprepared will flop around nervous and uncertain as they wait for more and more 'evidence' to support their view, only to miss some great trades and add further to their own confusion.
Mechanical investors will know when the market returns to LOW risk, and will then be able to re-enter the market based on this overall market indicator. The individual trade signals will appear and will be given a position size based on the current risk of the market.
We don't know for sure when this will occur, but when it does we will be able to re-engage the market with a much higher level of confidence than those traders who are unaware of the impact of volatility, and who are jumping in and out of trades with no real trading plan. An appreciation of volatility and the impact it has both on markets in general, and to the results of individual traders is vital to your long term success as a trader and investor.