Response to Comment by Thomas Rac:
"as you are using a technical exit signal only to exit a stock what is your interpretation of that valid signal? bear in mind that any particular stock might go temporary for a breather even 10 or more percent but you still would not know the outcome and sustained a huge loss if it was the beginning of a downturn."
To read the full comment click here.
Firstly, using a mechanical system is done to eliminate interpretation. I do this because I acknowledge and accept with every part of my being that human interpretation is done through a biased spectrum that is also not able to comprehend all the variables that interplay with any stock's price in the markets. Therefore, I can never know what will happen in the future. In fact, "anything can happen."
Secondly, you must allow a stock price room to breathe. A technical stop allows it room to breathe based on its individual price characteristics and not on your portfolio or risk profile, both of which have no influence on the market and are not determined by the market.
Each and every situation is unique therefore how much it needs to "breath" for each situation will be unique and hence different. This means that you will never know with certainty in real time whether a retracement of any kind is just the trend unfolding or whether it is the beginning of a reversal of a trend. You will know many weeks or months later with the benefit of hindsight.
What is important is that you use a logical concept, research it, and ensure that it provides an edge when combined with the entry criteria. Then execute that logical concept flawlessly knowing and accepting that it will not be right every time but that over a large sample, you will be way ahead by adhering to it.
To find two examples where a 2% TSL would not have worked well I looked at the two biggest profit trades that we have done in the SPA3 public portfolio in recent times. These are EXT (Extract Resources) and LNC (Linc Energy), 231% and 199% profit trades, inclusive of brokerage, respectively. EXT added $20,097 and LNC added $22,945 to the portfolio.
Using a 2% TSL the EXT trade would have been stopped out with a 5% profit trade or just $436 absolute profit. The LNC trade would have been stopped with a 7.34% profit trade or just $845 absolute profit.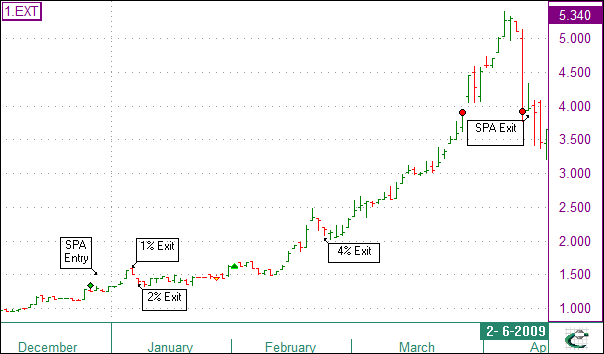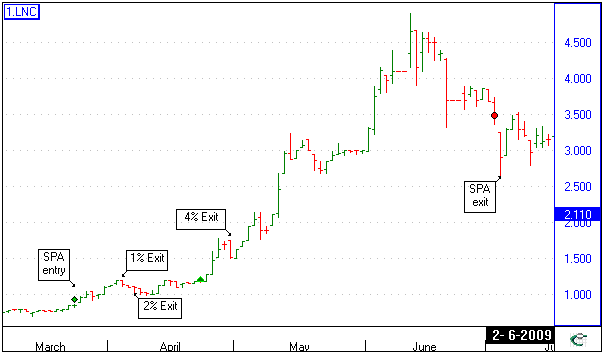 Both these trades traded below their 2% TSL for 4 trading days before continuing their trend.
For an example of a 2% ISL, the 4th biggest trade in our public portfolio, MMX, could have been stopped out depending on the entry price into the trade (on a large range day) between $1.70 & $1.57. We use the close which was $1.595 but an entry at or above $1.62 would have resulted in exiting the day after the entry at a -13% loss or -$1,000. In any case, a 2% TSL would have limited this eventual 195% (or $24,973 absolute) profit trade to just 28% profit.
For the record, the biggest % mover, 291%, over the 8 years from the SPA3 public portfolio, AUM (now CDU), could also have been stopped out at a loss the day after entry if entry had been at 61c to 62c instead of 60.5c.
There are plenty more examples. It's been years since I did this research and spending a few hours looking at many recent examples in up and down markets has re-confirmed my views. Thank you for the opportunity through your posting.
IMHO the 2% rule is too close for medium-term trading however this is a useless statement unless you have an alternative arrived at through research. Having said that, it's far better to use it than nothing at all.
Regards
Gary
Response to Comment by Leigh:
"If a stock is allowed to drop an exceptionally large amount (the size of the % drop is, of course, subjective), then it has already proved itself a pretty poor choice if not a "loser" and hanging on to it is "living in hope" that one might miss it's possible turnaround."
To read the full comment click here.
I absolutely agree with your statement. It is natural for a stock to retrace and by how much should not be determined using a subjective method. Having an unambiguous exit strategy is not living in hope, it is trading objectively.
Every stock will behave differently and every stock's future is unique. With SPA3, a fall in price will always trigger a technical exit at some stage, at which time you look for other opportunities.
"For example SPA 1 portfolio (I stand to be corrected if I am wrong) had 8 stocks losing more than 30%, the largest loss being PVA @ 47.83%."
You are correct, there have been 8 trades in the SPA3 public portfolio that have lost more than 30%. To put that into perspective, this is 8 from 831 which is 0.96% (i.e. less than 1%) of all closed trades. A poor system designer might introduce a rule to eliminate 30% or worse loss trades but I can guarantee you that the same introduced rule would also eliminate a whole lot of profit trades that the system would otherwise have achieved.
There have been 2 that have lost more than 40%, PVA and BKN (I did the BKN trade in my Super portfolio but also did the next one which was a profitable trade). PVA was suspended for a few days and dropped on the open after suspension and BKN opened down over 40% on an overnight announcement from an up trend. Neither of these could have been prevented with an intraday financial stop.
As I keep saying, "anything can happen" and there are too many variables to eliminate all bad outcomes.
"I don't know what would generally be regarded as an acceptable max % loss by others, but I guess I would be feeling uncomfortable at anything greater than 25% and perhaps comfortable at 20% as an overriding exit to technical analysis stops.
Convince me I'm wrong!"
I can only use research to try to convince you that you may be heading down the wrong track. You see, by introducing any rule to your trading system you can't focus on the positives that it will bring to the system without measuring what the negative effect to the system will be.
Let's first see what you are trying to avoid. There have been 21 trades in the SPA3 public portfolio worse than a 25% loss, that is, 2.5% or all the 831 trades, and 50 worse than a 20% loss, or 6.02% of all 831 trades.
Of the trades mentioned above LNC, MMX, and AUM would have been stopped out well before the SPA3 exits (LNC early in the trend) with 20% trailing stops. These are only a few of the trades that form part of the profit side of the system. Out of the 831 closed trades, 89 have had greater than 20% return, 38 greater than 50% return, 13 greater than 100% return, and 2 greater than 200% return. How many of these would have been stopped out with a TSL?
The above discussion really is redundant because the SPA3 edge proves that with the existing entry and exit mechanisms, risk management and money management rules it massively outperforms the market, managed funds, and portfolio managers.
Losing is a natural part of trading and it must be accepted.
Regards
Gary