The ultimate goal for the trader and active investor is to reach the point where trading becomes automatic. At this level all trades are simply executed according to a plan and the rules of their system(s) have become internalised to the extent that they are adhered to flawlessly, consistently and objectively without hesitation or reservation.
There is no emotional attachment to the outcome of any trade as the trader is at peace with all outcomes. The trader has reached a level of acceptance and understanding where their trading processes are completely and utterly trusted. Fear is overcome; the fear of losing, being wrong or missing out does not cause mental conflict of any sort at any time on any trade. This is inherent to the Unconscious Competent because they know that trust and fear cannot co-exist simultaneously, only one can be dominant in any given moment. They trust and are hence carefree yet not careless in the moment.
Winning trades, losing trades, break-even trades, winning and losing streaks, drawdowns and new equity highs are all accepted as the probabilities of their edge playing itself out in the market, in real time, just as the back-tested and historical trading results of the edge indicated they would. Essentially, trading their edge has become an automatic subconscious activity – just like reading a book, writing or driving a motor car, all of which were once conscious activities. Trading has become a habit. A habit that is founded on functional beliefs that are in harmony with the environment in which decisions are executed – the market.
At this level the individual has had so much repetition and practice with a skill it becomes 'second nature' and can be performed effortlessly without struggle, strain or pain. Perhaps it can even become 'first nature'.
The process of being empathetic with market price movement becomes habitual and a part of the individual's personality. At this level the individual's subconscious has been programmed, through repetitive execution of mechanical edge trades, to operate with a market paradigm.
Although it is not necessary to achieve Level 4 to make consistent profits in the market and outperform the market indices, (Level 3, Conscious Competence, will achieve this) it is a worthy ultimate goal whilst on the lifelong journey of improving one's active investment skills. If ever attained, it will affect performance very positively. If never attained, the endless journey towards the goal will still be sufficient to massively outperform the market indices and alternative investment avenues.
At this level, the framework of the individual's trading system(s) has become a part of who they are; it is entwined with their life in the same way as cleaning one's teeth or walking.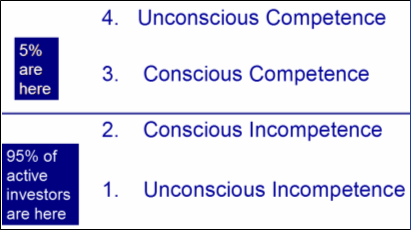 It is estimated that only 5% of active investors achieve either Level 3 or Level 4 of Competence when it comes to trading in the market! Astonishing! The other 95% remain 'below the line' in either of the two levels of Incompetence. The main reason is that achieving consistency, that is, sustained active investment success with a steadily rising equity curve, requires a major paradigm shift that most individuals have great difficulty making. The shift is typically prevented by current dysfunctional beliefs expressing themselves through self sabotage of the trader in the form of counter-productive thoughts, feelings, statements and actions.
It takes desire followed by conscious effort to step into a process of change to overcome the sabotaging beliefs. Ongoing discipline is required until the process of transition, that is dysfunctional beliefs are de-energised and new market paradigm beliefs are energised, is completed. "If you always do what you've always done you'll always get what you've always gotten."
Transition to Level 3 and then possibly to Level 4 can be achieved through the repetitive use of a researched, proven and robust mechanical trading strategy that has an edge. Mechanical edges emanate from the market and can be used as a cornerstone tool to create beliefs that are functional for engaging the market. Dysfunctional beliefs that are in conflict with the way that market communicates emanate from our time spent in society. A societal paradigm conflicts directly with a market paradigm. Stated another way, we are programmed to fail in the market unless we undergo a paradigm shift in our mental framework.
Reaching Level 4, Unconscious Competence, is the ultimate goal in any activity, however to outperform the market indices, Level 3 will do.