We may be approaching a history making event in the next few weeks so now is a good time to put this event into perspective. Whatever the outcome of the event I'm talking of, it will be analysed and investigated millions of times over in years to come.
Over the past few months, readers of this journal, viewers of the Switzer TV show on which I have discussed this content and customers that have read the Share Wealth Systems Between the Charts communique will have become familiar with my discussion about the secular bear market that equities investors have suffered the world over for around 13 years now.
To end the current secular bear market the S&P500 and Dow Jones Industrial Average need to make and confirm new all-time highs which are 1576 and 14198, respectively. The DJIA is about 2% from its all-time high and the S&P500 just under 5% away from its all-time high.
The market indices do not have to reach their respective all-time highs to retrace from there. However I do believe that a retracement right now is unlikely and that equity markets will track higher from here to test and surpass their previous all-time highs. What happens when these all-time highs are reached and even surpassed is what will be interesting.
There have been other secular bear markets in the past. To help put the really big picture into perspective consider this chart of the DJIA over 116 years.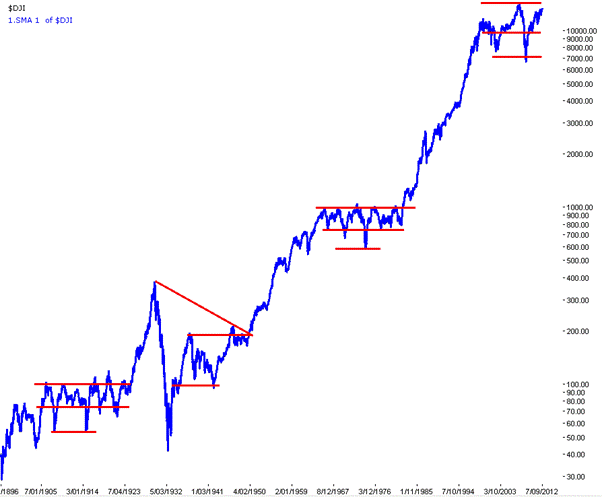 You might say that we are in the fourth secular bear market since 1896, using the DJIA. The market rises in-between the secular bear markets are secular bull markets. The existence of the current secular bear market is even clearer in a long term chart of the S&P500.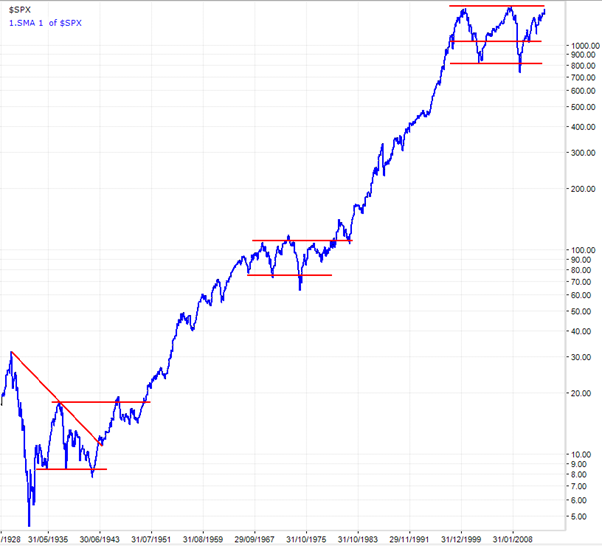 It is a trait of a secular bear market that it comprises primary bull markets that can rise by as much as 100% and primary bear markets that can fall by as much as 60%. Primary bull markets end secular bear markets when they break out of the long term range.
The event that is about to take place in the next few weeks is the testing of the upper resistance zone that defines the top of the secular bear market and potentially defines the base of an ensuing secular bull market. As you can see from the charts above there are only 3 such events in the past 116 years where the changing of the guard from a secular bear to a secular bull has occurred. We could indeed be approaching a spectacular time in world equity markets that will be analysed in the future just as we are doing right now for 1924, 1949 and 1982.
If a breakout to new highs occurs then there is bound to be a pull back to retest the previous highs. The market will need to bounce higher from there to confirm the new secular bull market or fall back into the secular bear's grasp…..
The case against the start of a secular bull market:
World economic problems persist with huge debt in Europe and the United States.
This secular bear market has only lasted around 13 years whilst others have lasted 18, 20 and 17 years.
It is a defining trait of a secular bear market that the market battles to make new highs when previous highs are reached. It was 11 October 2007 that the previous S&P500 high of 1576.87 was etched into history by the S&P500. This high slightly extended the high reached on 24 March 2000 of 1552.09. Both highs saw large retracements that followed of 55% over 17 months in 2007 and 50% over 2.5 years in 2000.
Previous secular bear markets have ended with a primary bull market that started around the mid-point of, or slightly above, the sideways range. This would favour a serious pull back of around 30% before this secular bear market ends with a different primary bull market to the one that we enjoying right now.
The case for the beginning of a new secular bull market:
Equity markets and world economic conditions are not currently in sync and have never been in sync.
Bull markets have typically started during periods of low GDP growth and ended during periods of high economic growth. The western world is currently in a low GDP growth period.
Interest rates and bond yields are relatively very low in Europe and the United States thereby pushing investors to the stock market for yield in large cap stocks.
The contrarian indicator of money flows into / out of mutual funds in the United States supports the existence of an equities bull market.
I'm not predicting which will occur. "And quite frankly I don't give a damn."
The strategy that I use in the markets has long been defined. I keep investing with a medium term horizon taking long positions until I get a systematic risk exit signal to take no further entry signals and to go 100% into cash. It is quite liberating, you should try it……
Which ever happens, it may be some time before another event such as this occurs again. Be on the lookout for it.