The ASX200 has continued a steady rise over the last month making May of 2016 a "hold and stay" rather than a "sell and go away".
The daily chart below of the ASX200 shows the steady advance from around 4910 in mid-April and right through May. The ASX200 has risen from below to above:
the thin black downward slanting trend line, and
the middle blue resistance zone.
Technically this is a positive move breaking above some resistance. The middle blue zone has now become a support zone, above which the ASX200 must remain to indicate further strength.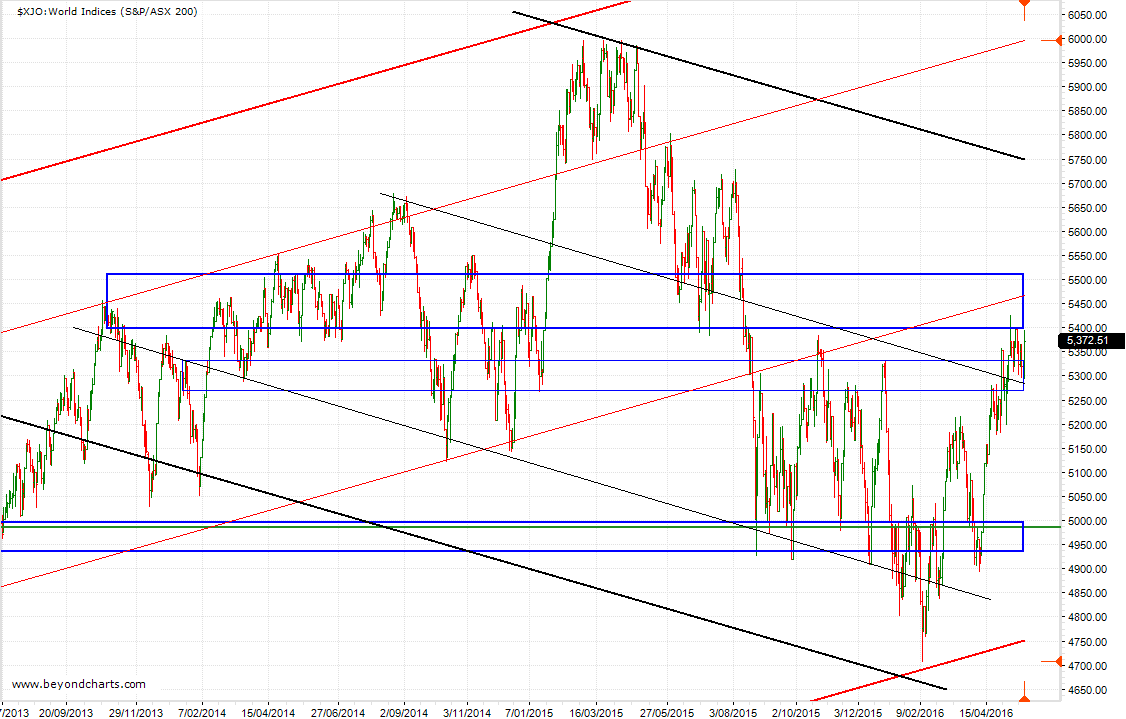 Source: Beyond Charts
The major challenge that now lies ahead is to penetrate the overhead resistance zone which spans a wide range between 5400 and around 5540. I say 'around' as there are a number of points that can be used to determine the lower and upper boundaries of the zone. But it is a resistance zone nonetheless and a rise above this zone would be a strong indication of continuing strength.
The immediate target is 5550 to confirm the current steady advance, and then on and upwards to 5700 to challenge the upper black channel line. On the flipside, a fall below 5270 and then remaining below that level for more than seven trading sessions would indicate weakness and a potential fall back to the major support zone of 4930 to 5000, the lower blue support zone.
Clearly, to achieve such an advance will require price advances in both large cap resource stocks and the Australian Financial sector, especially the large banks. Other sectors are playing their supporting role, such as Health, Insurance, REITs and Industrials.
The four major banks have reached their own resistance zones (not shown) and have to break above these to play their role. Short term technical indications are that they might suffer a small retracement before doing this. An immediate break above their resistance zones in the next two to three trading sessions would indicate better price momentum than suffering a retracement first.
The major resources stocks in the ASX20, BHP, RIO and Newcrest are currently retracing after strong advances. This is normal. An expected bounce is these will assist the cause for further upward momentum.
In summary, the ASX200 continues to surprise and look a lot better than many are giving it credit for.
Gary Stone is the Founder and Managing Director of Share Wealth Systems.