The art of trading is not about winning as much as it is about not losing. Like a business needs to control its costs, a trader needs to be able to minimise and withstand losses so that they are ready and able to take advantage of profitable opportunities. This comes down to managing risk at a trade and portfolio level.
Today I'm going to discuss a trading rule that has been regurgitated in book after book for many years. Pick up a book on trading the markets and you're likely to read this rule as gospel. I'm talking about the '2% rule.'
If you're someone that has never heard of the 2% rule, here's a definition that I found online:
"The 2% Rule represents the actual percentage of a trader's capital that he or she is willing to risk on a single trade should it go against them. So a trader with $100,000 capital will risk $2,000 per trade".
Well today I'm going to dispel the perceived truth of the 2% trading rule.
Don't get me wrong, using the 2% rule is better than using nothing at all but in my opinion, 2% is taking too much risk on individual trades.
How did I come to this conclusion?

Over the past 2 years, my team and I have spent thousands of hours testing and simulating risk management concepts to discover methods of preserving trading capital. We were looking to discover how the risk per trade equated to growth and drawdown in a portfolio. You might call it the position sizing 'sweet spot', where the risk per trade delivered the best reward, with the least amount of pain (drawdown) for effort.
We knew that if we could get this right that our customers would be able to understand how portfolio performance related to the risk they took on each trade. Customers would be able to consider their own personal and financial objectives upfront and then based on the simulation research, they'd be able to select the appropriate position sizing that best suited their financial goals.
The research process involved running over 1,000,000 individual portfolios with the help of our mechanical system, SPA3. To test such concepts, mechanical entry and exit signals for every trade were needed so we could objectively measure the risk per trade versus portfolio growth versus drawdown.
We ran multiple simulations using position sizes based on % risks per trade of 0.2%, 0.3%, 0.4%, 0.5%, 0.6%, 0.8%, 1%, 1.5%, 2% and 3%. We also researched different portfolio sizes, different brokerage rates and different system parameters
Here's what we found…
What I am going to discuss here is some hard-nosed research using different % risks per trade. I should also explain that in each research simulation run we simulated 1000 portfolios, with each portfolio being defined as a unique and separate portfolio equity curve. Each portfolio equity curve was unique because the individual trades that comprised each portfolio were selected randomly through the life of the portfolio from a list of mechanically signalled trades on any given trading day when there was available capital in any portfolio to be filled with a trade(s).
Please stick with me here because I need to get technical to help you understand the research findings.
Box-plots

The box in the image below is called a 'box-plot'. Each box-plot shows 900 of 1000 simulated portfolios for each % risk per trade. The box-plot represents the 5, 25, 50, 75 and 95 percentile portfolios so you can understand the range of performance from the best performing to the worst performing portfolios.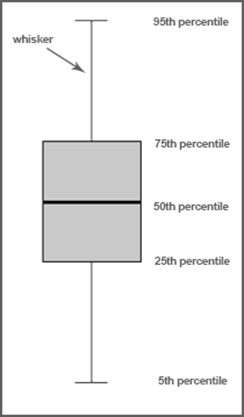 *When considering a statistical sample it's common practice to omit the top 5% and bottom 5% from the results.

The Daily Geometric Mean

The graph below is called the 'Daily Geometric Mean'. The Daily Geometric Mean indicates the growth of the simulated portfolios for each % risk per trade versus the average portfolio growth per day. E.g., a $100,000 portfolio with 0.5% risk ranged between 1.0008% and 1.0006% compounded growth per day.
So what are you looking for?

You're looking for the narrowest possible box-plot from the top to the bottom of the whisker as it demonstrates that low variation between the best and worst performing portfolios were achieved.
You're also looking for the highest growth or best performing portfolios which are indicated by the top of the whisker.
The ASX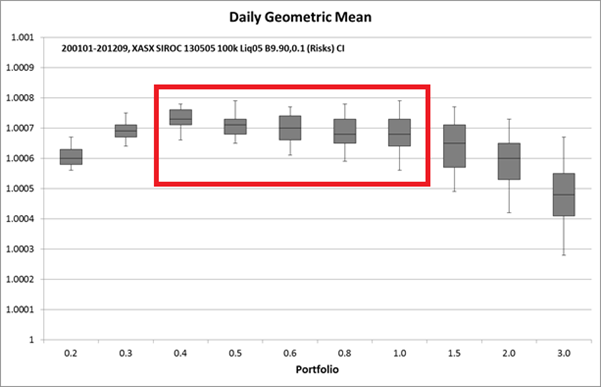 Using portfolio growth as the key decision criterion for trading on the ASX, the ideal position sizes for this trading plan scenario range from 0.4% risk per trade to a maximum of 1% risk per trade.
Note that 2% risk per trade and definitely 3% risk per trade (two box-plots on the far right) are far too big a position size with which to trade as growth has fallen away substantially.
The same can be said for the NASDAQ

Let's see if we found a similar pattern regarding position sizing on the NASDAQ. Again, from a growth perspective it would be unwise to use a % risk per trade money management regime greater than 1%!! In fact, 0.8% would probably be the limit if the NASDAQ does in the next 12 years what it did over the 12+ years in our research period. (PS, it could do better!)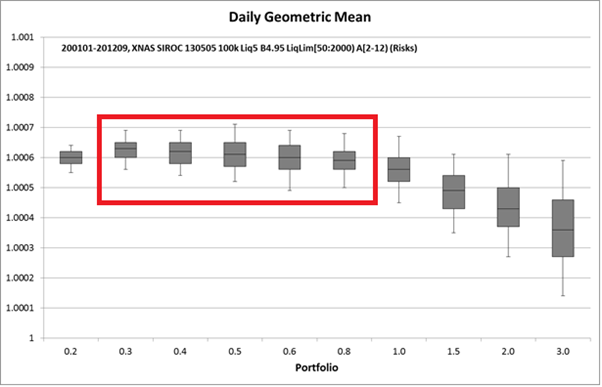 Maximum Drawdown

The second graph is the 'Maximum Drawdown (%)'. The Maximum Drawdown shows the maximum drawdown that occurred for each % risk per trade. We used the same portfolios as above in the Daily Geometric Mean so you can understand how the risk per trade affects the potential for portfolio growth and drawdown.
Drawdown, as shown in the next graph below, gets far deeper when using the 2% and 3% rule. You can clearly see this by the two box-plots on the far right in the graph above. 1% risk per trade would probably be the largest position size to use from a maximum drawdown perspective on the ASX.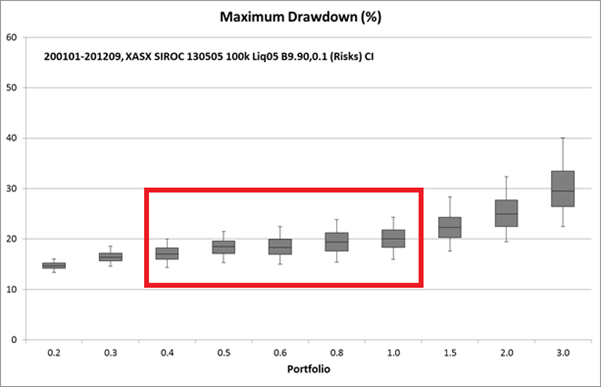 And from a maximum drawdown perspective on the NASDAQ, the limit might also be 0.8% risk per trade. 2% risk per trade would be far too big a position size to use.
Now remember that the NASDAQ had some huge drawdowns during the 12 year period from 2000 with the biggest being -76% from 2000 – 2002 so maximum drawdowns in NASDAQ portfolios should be expected to be a bit deeper than with ASX portfolios over this period.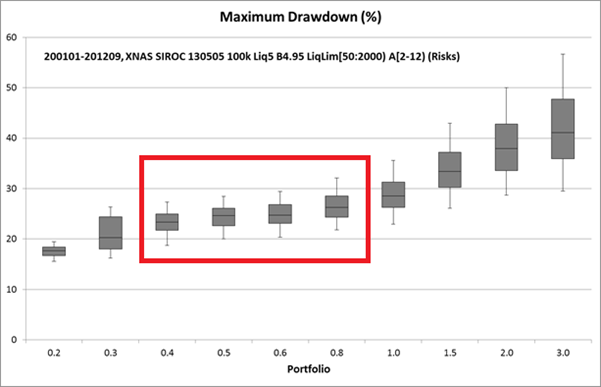 The idea of this research is not to determine whether the mechanical system is profitable or not, as we already know that, it is to determine what the upper and lower position size and risk boundaries are for different customer trading scenarios, mainly to do with portfolio starting capital.
I trust that you now have the evidence to seriously question anybody that casually writes in a book or blog that you should use the 2% rule for your active investing.
In my view the 2% rule was never really researched and as it seemed to make sense, most other authors just regurgitated it in their books. I am suitably convinced that managing an active portfolio using the 2% rule is taking too much risk on individual trades.
There are other limiting factors when trading with too large a position size like potentially being forced to have too little diversification in a portfolio due to having too few simultaneously open positions and not letting enough trades sift through your portfolio to capture the juicy ones.
As important as it is to have a system with an edge, position sizing has the largest influence on a portfolio's performance. And funnily enough it's probably the most undervalued and under-prepared component of any investment strategy.
In conclusion, my view is the 2% rule is a myth and that far smaller position sizes should be used, at least half the size, on average, compared to the 2% rule!
If you would like to understand more and see how SPA3 controls the risk per trade, you can register for a demonstration here.